>
Home
>
News
>
FaithTalk Online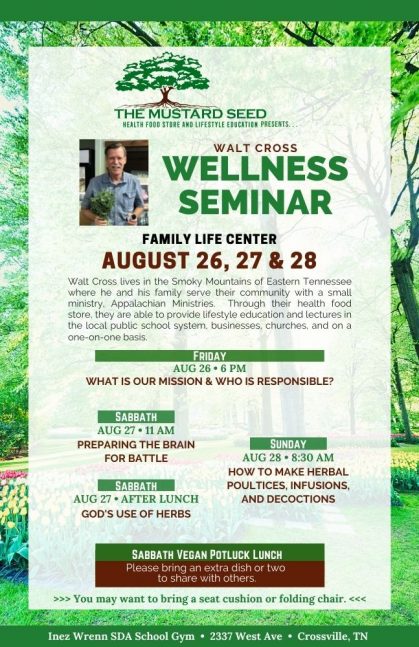 Walt Cross
Health & Wellness Seminar Weekend
Mark your calendar for August 26-28.
Health Ministries is excited to bring Walt Cross back for another health seminar. Please invite your friends and neighbors. The Sabbath 11:00 AM service will be held in the Inez Wrenn School Gym/Family Life Center, followed by a VEGAN potluck. Please bring plenty of vegan food for your family and extra for visitors.
Meetings are as follows:
>> Friday night: 6:00 pm - "What is our Mission & Who is Responsible?"
>> Sabbath morning: 11:00 am - "Preparing the Mind for Battle"
Sabbath afternoon: (following lunch) - "God's Use of Herbs"
Sunday morning: 8:30 am -
"How to Make Herbal Poultices, Infusions and Decoctions."
[>>  Updated Meeting Titles]
Walt Cross lives in the Smoky Mountains of Eastern Tennessee where he and his family serve their community with a small ministry, Appalachian Ministries.  Through their health food store, they are able to provide lifestyle education and lectures in the local public school system, businesses, churches, and on a one-on-one basis.
 
    Walt's formal education was in conventional health care administration and for the majority of his career he worked in that field.  In 2000, Walt accepted an offer to work as the director of an International Lifestyle Center where the method of addressing health concerns took a much more proactive approach in looking for root causes.  He has found this proactive approach to addressing health concerns to be a much more effective way in addressing chronic diseases.
 
    Walt routinely speaks in Seventh-day Adventist Churches throughout his home conference, Georgia Cumberland, and other conferences around the United States.  He has also spoke for the church in Canada, Bermuda and Venezuela.