>
Home
>
News
>
FaithTalk Online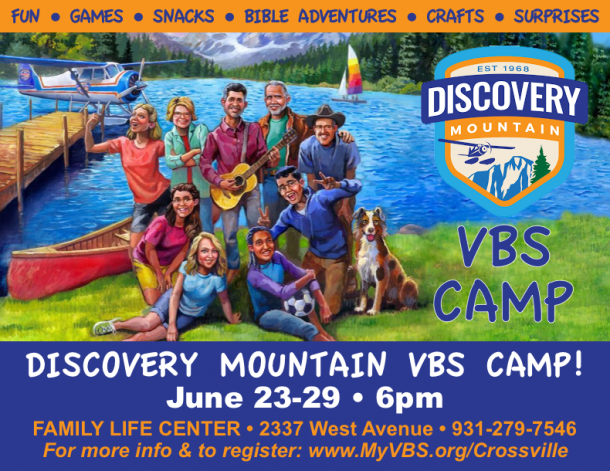 YAY! DISCOVERY MOUNTAIN CAMP is about to begin! Our VBS CAMP starts TOMORROW at 6PM. There will be lots of FUN, GAMES, SNACKS, BIBLE ADVENTURES, CRAFTS and many SURPRISES!
• We need helpers to setup & decorate tonight after sundown and tomorrow from 10am-5:30pm.
•  If you are helping each evening, please come at 5:30pm.
• If you happen to have a Christmas tree we could borrow for our forest, please drop it by the FLC tonight or tomorrow.
• We solicit all our Prayer Warriors to keep VBS and its participants in prayer all week please!
• Please plan to have your child registered before 6pm as our program will begin promptly at 6. For your convenience you may register today in the foyer or online at  www.myVBS.org/Crossville
• VBS Invitations are also available in the foyer. Pick up a handful to share with your family and around your neighborhood.
THANK YOU SO MUCH FOR YOUR FAITHFUL SUPPORT!!!
You may contact Shadelle Haley (931-787-8500) or Trudy Severt (931-279-7546) if you have any questions or would like to donate or help in anyway.