>
Home
>
News
>
FaithTalk Online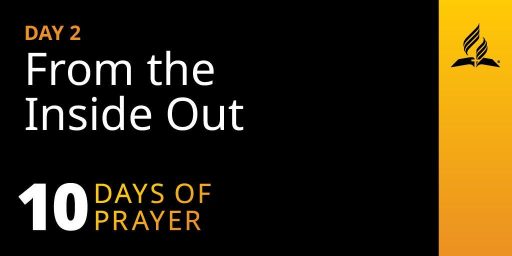 Most assuredly, I say to you, unless one is born again, he cannot see the kingdom of God.

I was a pretty good child growing up. I wasn't rebellious toward my mother; I was attentive in school and respectful to my teachers. I didn't participate in wild parties, drink alcohol, or experiment with drugs like other youth in my high school.
After I became a Christian, I prided myself that I was a good person. I ate the right foods, replaced my rock music with Christian music, dressed modestly, taught the Sabbath School lesson, organized evangelistic events and outreach, and even shared my personal testimony. I had given my heart to Jesus, was baptized, truly believed in His Word, and looked forward to living eternally in His kingdom. My whole world revolved around the church and its activities and doing good things. By outward appearances, I was living a righteous life. I soon learned, however, how shallow my Christian experience really was—and how much I needed Jesus.
One evening I attended a seminar at my church on Christian living. The speaker said that unless a person is born again, he is not in a saving relationship with Christ. She quoted this statement from Ellen G. White: "The Christian's life is not a modification or improvement of the old, but a transformation of nature. There is a death to self and sin, and a new life altogether" (The Desire of Ages, p. 172). The stark reality hit me: there is more to the Christian life than I thought! It was true, my life was different than before I received Christ, but it was improved, modified. I was a Christian, but self was still alive. I still had a temper and was easily wounded. I was proud and demanded that things be done my way. I had not yielded myself to Christ. I thought my salvation was secure through all the things I was doing, but I was missing the joy of my salvation! I had made a profession of Christ but did not have the love of Christ; I had not surrendered to Him. I needed Jesus to be formed within.
How does a person surrender to Christ? First, it is imperative to recognize the need for a Savior—to choose Him.
"Education, culture, the exercise of the will, human effort, all have their proper sphere, but here they are powerless. They may produce an outward correctness of behavior, but they cannot change the heart; they cannot purify the springs of life. . . . unless he shall receive a new heart, new desires, purposes, and motives, leading to a new life, 'he cannot see the kingdom of God'" (Steps to Christ, p. 18). I could not change my heart, but I could choose to give Him my will. I responded to the gift of repentance and confessed my sin of self-righteousness, self-importance, self-indulgence, and self-pity, and then placed my will on the side of Christ, for Him to control.
Second, spend quality time getting to know Him who is Life Eternal. "And this is life eternal, that they might know You, the only True God, and Jesus Christ whom You have sent" (John 17:3). As I spent time in Scripture and prayer, becoming intimately acquainted with my Savior, my life began to take on new meaning. Jesus began the process of making something beautiful out of my life. My mind was being renewed—new attitudes and new affections were being developed. My desire to serve God deepened.
You may say, "I was born into this church. I've been a Christian all my life!" "I've never been out in the world!" "I've worked for the Master for as long as I can remember." These things might be true, and praise the Lord for that! However, you can have all this and still not have the Son.
Perhaps you, too, have been impressed by the Holy Spirit that your Christian experience is shallow. What can you do? You can pray this prayer: "Search me, O God, and know my heart; try me, and know my anxieties; and see if there is any wicked way in me, and lead me in the way everlasting" (Ps. 139:23, 24). Surrender your heart and life to Him and, one by one, He will reveal areas of your life that need to be changed. As you cooperate with Him, your life will never be the same!
#10daysofprayer #newheart #transformation #newcreature #hearttransplant
---